The logo and the labyrinth are one in the same. The pattern of the labyrinth contains the words St Mary's and a cross. The design was turned into a logo and then drawn on a scale map of the church interior.
To create the labyrinth on the floor of the church a grid was made using a chalk line, volunteers then followed a grid map to tape the lines. A template was used for the curves. It took around eight hours to reproduce the labyrinth in the church using approximately 350 metres of white tape.
The labyrinth contains a number of installations each built in wood and painted black. The installations are interactive containing items such as video screens, water, soil, sand, maps and a mirror.
The visitor walks the labyrinth listening to a CD on a headset, which contains words and music. The experience uses all the senses. There are objects to touch, to watch, to smell and to taste.
Richard Budd of Lionheart Graphics created and built the labyrinth without charge.
Website: www.LionheartGraphics.co.uk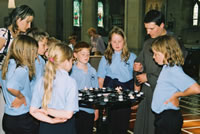 You can see the Labyrinth photo gallery by clicking here
Supported by...